Groovy new Airplane gadgets only a $10k software upgrade!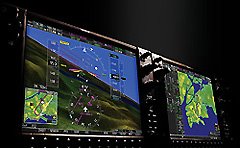 Garmin's Shocker: Synthetic Vision Has Arrived
The FAA has granted supplemental type certification for Garmin's three-dimensional Synthetic Vision Technology (SVT). The system displays high-resolution, 3D graphic depictions of terrain, runways, obstacles and even traffic on the primary flight display (PFD). The graphics replace Garmin's previous blue-over-brown PFD depiction. The user-customizable system also incorporates highway-in-the-sky guidance with rectangular boxes depicted on the PFD, and a flight path marker-which clearly indicates where the aircraft's flight path is taking it. Garmin said SVT should be available in July for aircraft equipped with its G1000 and G900X (experimental only) systems, and G1000-retrofitted King Air C90s some time next year. No hardware changes are needed for the SVT upgrade, but the software changeover will have to be made at a Garmin dealer.