Friday, June 10, 2005
Training to fly in to the rescue
Rangers, firefighters practice emergency retrievals of park visitors.
By Tim Sheehan
The Fresno Bee
(Updated Saturday, June 4, 2005, 6:21 AM)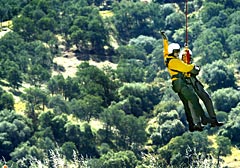 Park rangers Clint Coonfield, in yellow, and John Andersen are airlifted during a simulated short-haul helicopter rescue Friday at Ash Mountain in Sequoia National Park. Rangers were taking part in a two-day search-and-rescue training operation. This is the second year that rangers will be performing helicopter rescues at the parks.
Christian Parley / The Fresno Bee

SEQUOIA NATIONAL PARK
-- The sight of a rescue basket dangling from a 100-foot rope beneath a helicopter may have startled some springtime visitors Friday, but there was no cause for alarm.
Fourteen rangers and firefighters from Sequoia and Kings Canyon National Parks spent the day in training for short-haul search and rescue operations, preparing themselves for real emergencies such as hikers or mountain climbers who are injured, stranded or suffering from altitude sickness, and river rescues.
The work is called short haul because of the typically short distances over which rescuers and victims are flown beneath the helicopter, and it's just one of several training sessions the rangers will go through in the coming weeks as they prepare for a summer season that will see thousands of visitors streaming to the mountain parks.
Friday's helicopter rescue training at the park's Helitack Base near the Ash Mountain entrance came less than a week after the first fatality of the season, the drowning of a Lemoore man in the Kaweah River over the Memorial Day weekend -- an incident which also has rangers working to hammer home their message about the dangers of the parks' icy, fast-flowing rivers and streams.
This is the second year that rangers will be performing helicopter rescues at the parks, said Chief Ranger J.D. Swed. In 2004, five rescue missions were flown at elevations ranging from 4,000 feet up to 14,000 feet in addition to several training sessions.
Swed said the program has a budget of about $10,000, most of which goes into the park's contract with Fresno-based Rogers Helicopters for flight time from now through mid-October, plus harnesses, radios and other equipment for the crews.
"The training is expensive, but it saves lives," Swed said. "I can guarantee you it will save lives this year."
Using a helicopter can speed aid to victims in isolated areas when time is of the essence, and can reduce the risk to both rescuers and victims. "You might need 20 people to carry a litter over rough terrain and it could take hours or days to walk them out," Swed said. "And the risk to the patient increases. ... The faster we can get people out, the better their chances for survival."
As a Eurocopter AS-350B helicopter waited out at the Ash Mountain helipad, rangers clad in olive coveralls listened as helitack supervisor John Ziegler ran through the day's expectations. "The reason we do this is you can't always land at a patient's site," Ziegler said as he watched the rangers and firefighters practice using rescue equipment such as litters and harness seats.
After strapping into safety harnesses, tightening chin straps on their helmets and pulling on gloves, the rangers waited for the helicopter to rumble to life. As the helicopter blades beat the air with a rhythmic "whop-whop-whop," each ranger -- singly or in pairs -- used hand signals to communicate with the airborne spotter and pilot before latching onto the end of the rope.
Within seconds of signaling they were securely attached, they were whisked into the clear blue sky toward a drop-off site only minutes away.
Chris Waldschmidt, a Sequoia National Park ranger, acknowledged the serious purpose behind the training.
"But you can't help but have some fun with it when you're hanging there," he said with a broad grin as he waited his turn.
Ziegler said the rapids of the Kaweah River may provide an opportunity for the rangers to put their airlift skills to use, as it did during one of last year's missions when two boys found themselves stranded on a rock in the middle of the river. Rangers will be practicing their swift-water rescue skills for two days next week on the Kings River, which park officials say is just as treacherous as the Kaweah because of runoff from the melting High Sierra snowpack.
Because cold water temperatures in the 40s can quickly sap the strength of even strong swimmers, Ranger Erik Oberg said visitors are being warned not to try to play or swim in the rivers and streams in the parks during the spring and early summer.
A bulletin board in the Foothill Visitor Center in Sequoia warns: "River conditions: very dangerous." And at trail heads leading to the Kaweah River, signs in English and Spanish are posted: "Dangerous river! Rio peligroso!"
"What people don't realize is that just a few miles upstream, this water was snow," he said. "And there are still many, many feet of snow that needs to melt before the water levels drop."
Near the popular Hospital Rock picnic area in Sequoia National Park, the Middle Fork of the Kaweah River roars with a flow of between 4,500 and 5,000 cubic feet per second, or about 2 million gallons a minute, Oberg said. "The river is easily accessible and very inviting, but it's very dangerous, especially at this time of the year."
Because of last winter's heavier-than-normal snowpack and the dangers it poses to visitors, the park is recruiting volunteer River Rovers to help remind visitors about river safety.
Oberg said volunteers will be asked to hike trails to river access points and be trained to discuss the river's hazards as well as answer other questions about the parks.
Most safety tips are simple common sense, Oberg said:
Swimming is not safe in any of the rivers or streams in the spring and early summer.
Water temperatures in the 40s can quickly lead to hypothermia.
Climbing on rocks in or near the river is dangerous because they can become slick, having been polished smooth by ages of rushing water.
Parents must keep an eye on children and adolescents when visiting the river.
Oberg said for people intent on playing in the water, Lake Kaweah -- downstream from the park and currently filled to the brim -- is a much safer destination.
"After the Fourth of July, the water temperatures will be up and the water levels will be dropping and the river will be safer," Oberg said.
People interested in volunteering for the River Rovers need to be at least 18 years old, in good physical condition and be able to hike several miles a day over steep trails, Oberg said. They need to have good hiking shoes or boots, have their own transportation to the park and be able to commit at least two to three hours a week through the summer.
Anyone who speaks English and is bilingual in Spanish -- or any other language -- is welcome, he added.
More information about the River Rovers or other park volunteer programs is available by calling Oberg at (559) 565-3719.
The reporter can be reached at tsheehan@fresnobee.com or (559) 622-2410.